Service Times
Sunday Worship Service & Live Stream
10:00

am
Sunday 10:00 am
Sunday
7:00

pm
Wednesday 7:00 pm
Wednesday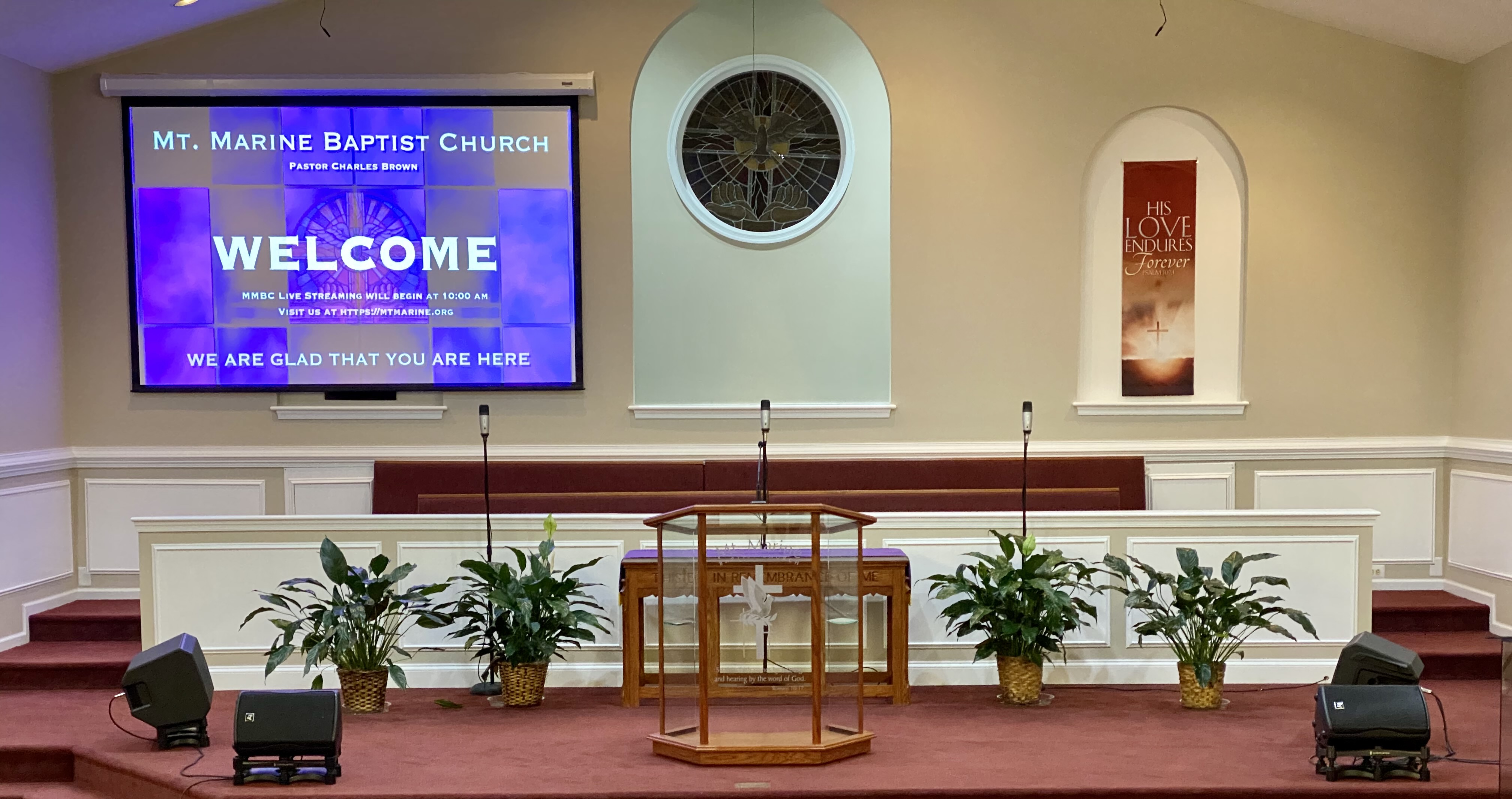 Mt. Marine Baptist Church is a faithful community of believers who are dedicated to following Jesus and doing life together.
When you arrive, you should expect to see people genuinely loving and praising God. Our Sunday service requires only that you attend, there is no dress code. We are not concerned about what you wear nor how you dress, you will find everything from casual clothes to Sunday's best. Come dressed in what makes you feel comfortable! If an in-person visit is not possible, then you may join us virtually for our Sunday Worship Service at 10:00am or the MMBC Virtual Bible Study on Wednesdays at 7:00 pm.
Lives are transformed at MMBC, friendships are formed, relationships are renewed, and people encounter the love of God through the Word of God.
We look forward to seeing you soon. Be encouraged!
Pastor Charles Brown Jr
Pastor Charles Brown is a native of Columbia, VA. He gave his life to the Lord at an early age and received his Christian foundation at Columbia Baptist Church, where he also served as a Deacon.
After accepting his call to preach the Gospel in 2003, Pastor Brown was then called to his first pastorate at Salem Baptist Church in 2005, where he served for three years. He was then called to serve the people and community of Mt. Marine Baptist Church in 2008.
He enlisted in the United States Marine Corps at the age of seventeen. During his 20 years of active duty, he had the distinguished honor to serve as the Assistant Marine Officer Instructor at the NROTC units, Duke University and The University of North Carolina – Chapel Hill. After serving 20 years of active duty, he retired in March 2000. After retiring he taught in the Charlottesville and Louisa County high schools. He is currently a Requirements Manager for a local firm, based in Vienna, VA.
He attended North Carolina Wesleyan College and received his Bachelor of Science in Business Administration. From Liberty University's Theological Seminary, he received his Master of Arts in Theological Studies. He earned his PhD in Theology at Trinity Theological Seminary.
He is married to the former Roberta Ivory, of Ivy, VA. They are the proud parents of two talented children and the grandparents of three.
Pastor Brown's love for people, passion for ministry, and gift of preaching has impacted the lives of many.